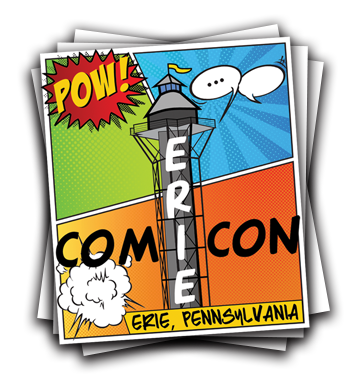 Ron Marz
Graham Nolan
Stephen Silver
Kurt Lehner
Tom Fluharty
David O'Keefe
Ron Marz
Ron Marz has been writing comics for more than two decades, starting his career with a lengthy run on Silver Surfer for Marvel. Since then, he has worked for virtually every major publisher and compiled a long list of credits, including stints on Thor for Marvel, Green Lantern and Superboy for DC, Star Wars for Dark Horse, and as a staff writer for CrossGen Comics.
He has also written Witchblade for Top Cow/Image, Skylanders for IDW, John Carter: Warlord of Mars for Dynamite, The Protectors for Athlitacomics, working with former NFL player Israel Idonije, and begins his run on Aspen's Fathom this year. He is also the Editor-in-Chief and Lead Writer for the revived Ominous Press, writing the titles Dread Gods and Demi-God, as well as the original graphic novel Beasts of the Black Hand.
Marz's creator-owned series include the all-ages tale Dragon Prince at Top Cow; the historical adventure Samurai: Heaven and Earth, and the science-fiction story Pantheon City, at Dark Horse; and the vampire tale Shinku at Image. Marz and acclaimed artist Stjepan Sejic also have teamed for Ravine, a series of creator-owned fantasy graphic novels from Top Cow.
His website is www.ronmarz.com, and his Twitter is @ronmarz.
Stephen Silver
Character Designer and Teacher
I was born in London, England on August 30, 1972. Aspiring to be a professional artist my whole life and knowing drawing would be my vocation, I got my professional start in 1992 drawing caricatures at Sea World in San Diego. 
I have designed characters for Disney Television Animation, Sony Feature Animation and Nickelodeon Animation, designing the style of the shows such as "Kim Possible", "Danny Phantom" Kevin Smith's "Clerks" the animated series, and many more.
I am the author and artist of 7 self-published books on the art of sketching, character design, caricature and life drawing. In addition to working freelance,  and doing lectures, I am the owner of Silver Drawing Academy, an art school, located in Los Angeles, CA.  I also teach two character design courses online @ schoolism.com. 
Graham Nolan
Cartoonist
Graham Nolan is a Inkpot Award winning cartoonist best known for his long run on BATMAN in Detective Comics and as the de-signer and co-creator of the iconic Batman villain: BANE.
Since 1983, Nolan has worked in the comic book industry for all the major publishers as a penciller, inker, writer and publisher as well as illustrating the syndicated newspaper strips, The Phantom and Rex Morgan, M.D. for King Features Syndicate.
He is also the creator of the graphic novel: MONSTER ISLAND, web-comic: SUNSHINE STATE and the co-creator of the IDW horror adventure series: JOE FRANKENSTEIN.
When he is not chained to the drawing board you will find him in his Jeep, down at the lake fishing.
Kurt Lehner
Kurt Lehner is a Canadian Illustrator & Animation Artist. He was born in Toronto, Ontario, & ever since his childhood, has had an absolute passion for Comic Book & Fantasy Art.  A graduate from the Ontario College of Art & Design in Toronto, his career started in Advertising.  Working for such companies as TDF, ADS & J. Walter Thompson, he soon found his path into the Animation Industry.  Through his talents, he has worked on projects for such companies as "Walt Disney, Warner Bros., Marvel, Dreamworks, Nelvana Studios" & many more…
Many famous Movies & T.V. shows, display Kurt's extensive talents as a Senior Character Designer & Development Artist. Such familiar shows as "Gargoyles, The Rescue Heroes, All Dogs Go To Heaven 2, Space Jam, W.I.L.D. Cats, Cadillac's and Dinosaurs, Beauty and the Beast – The Enchanted Christmas, Rupert, The Marvel Action Hour / Iron Man & The Fantastic Four, Ned's Newt & the Development Design of Franklin the Turtle", with of course the list going on… 
Kurt's career now spans over 25 years as a Professional Artist in the Industry. Currently heading his own companies, he is producing outstanding work for Movie & TV show launches, Character Development & Animation Art, Comic Book & Fantasy Art, Advertising & Commercial Illustrations, Logo Designs, Graphics & Portraits. In addition, being registered with The Ontario Educational Services, he is also working internationally with children & students as an Instructor & speaker through the media of Workshops. Kurt is the recipient of School Board Educational awards & is proudly featured in the New York Times for his work in the Animation Industry.
David O'Keefe
David O'Keefe Master Sculptor and Passionate Painter  
Raised on Hollywood, sports and rock and roll music, David O'Keefe has an acute awareness for the images and personalities that have colored the lives of his generation. He just sees things differently – more intensely, edgier, somewhat more perspicuous than the average spectator.
The pop culture icons that we idolize, glamorize and glorify, O'Keefe visualizes for us in all their humanness as well as their stardom. O'Keefe began his art career at The Tampa Tribune as a promotion artist, dabbled in editorial cartooning under mentor, Wayne Stayskal, and spent several years as the Special Project's Illustrator for the newsroom. His sardonic caricatures and humorous illustrations have appeared on the covers of Sports Illustrated, Sports Illustrated for Kids, Mad Magazine, The Village Voice and within the pages of TIME. His advertising clients include Coca-Cola, WaffleHouse, Fuji and SunCom Communications.
O'Keefe's work is transformative, capturing not just the likeness of his subjects, but their personalities as well.  He is renowned for his epic Godfather and Caddyshack tributes, as well as many other popular stars of the last century.  His work is sold through galleries across the country and in Europe. David O'Keefe Studios operated a solo gallery on St. Armand's Circle in Sarasota, Florida until 2014 and most recently in Channelside Bay Plaza, Tampa. 
O'Keefe's work has won numerous awards from such organizations as The Society of Illustrators (NY and LA), American Illustration, Communication Arts, National Headliner Awards, Dimensional Illustrators, and the Society of News Design. Currently, O'Keefe is concentrating on creating new art through commissions approved licensees and selling his art through approved retailers and licensees.  Please inquire to have David O'Keefe work with you on your favorite pop culture treasure.
Tom Fluharty
His work has been featured on covers for Mad magazine, Der Spiegel, and Time Magazine, who gave the cover to the National Portrait Gallery's permanent collection. His work is notably featured for The Weekly Standard, for whom he has painted over 100 covers. Other clients have included People Magazine, Entertainment Weekly, Sports Illustrated, The Village Voice, Coca-Cola, and the New York Times.
Fluharty's work has received national recognition from the Society of Illustrators in New York and Los Angeles and Communication Arts Illustration annuals. He won a gold medal from Spectrum Fantastical Art for his depiction of Hillary Clinton, and a bronze medal for the cover painting of Max Lucado's book, The Boy and the Ocean for 3×3  Magazine of Contemporary Illustration under his children's book alias T. Lively Fluharty.
His work is also in the personal collections of Astronaut and Senator John Glenn, Pat Boone, Naomi Judd, the late movie director Robert Altman.
Fluharty loves working with students all over the world teaching online with Schoolism.com where he teaches drawing and painting.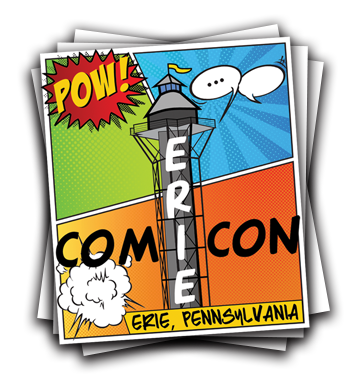 September 14 – 16
FRIDAY: $15
SATURDAY: $18
SUNDAY: $15
GEEKENDER: $30
(All tickets sold at the door are $20 per day or $35 for a weekend pass)
CHILDREN 10 and UNDER ARE FREE!
JOIN THE FUN
ONLY $10 BUCKS!
Limited Tickets will be sold.
Purchase Cosplay ball tickets seperately or as an add on to your ComiCon Erie Event tickets.