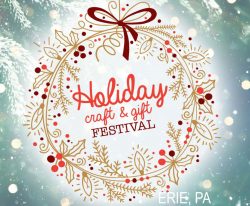 VENDOR SPACE REQUEST
Becoming a vendor is as simple as picking your booth size, booth location, and any additional decorating items. The following is the booth pricing information:
There are 3 types of booths at this years show. THE EVENT IS SPLIT INTO 2 MAIN PAVILIONS.
RESERVED FOR ALL OTHER PRODUCTS & SERVICES
A Vendor Booth Package includes 8′ backdrop curtain with 32″ side rails in show colors. 1  table & 2 chairs. Non Handmade Buy/Sell. If you are interested in this booth type please fill out your vendor request below.
QUESTIONS? CALL US AT 814-790-5079
Or Email RENEE!
Please fill out the following form if you are interested in participating in the Holiday Craft & Gift Festival as an Vendor
If you are interested in the Craft & Gift Booth Options, please CLICK HERE.