Featuring the ALL NEW!
Erie's premiere women's event is proud to announce an array of artistic merchants, craft vendors, creative chefs & bakers who have joined us this October! With the holiday season right around the corner, the Artisan Gallery & Culinary Corner will tantalize your taste buds while you SHOP 'TIL YOU DROP!
Artisan Gallery
Bring your tribe and kick off the holiday season right, by shopping the ALL NEW Artisan Gallery. Experience handmade art and craft items from over 35 regional artisans. Each vendor has been carefully selected and juried for this event. Shop handcrafted goods while tasting regional PA wines.
Just in time for holiday shopping!
This years Artisans
Melkim Shea Designs
D's Custom Creations
Knots & Folds
Acrylic Creations by Heather
Serendipity Designs
Double LL Gifts
Anne Cutri Fine Art
Gina Foll Jewelry
Anna Foll Art
Mel's Pot Shop
Beautiful You Sewing
Jento Soaps
Jack Paluh Arts
SMC Gems
Dog-Gone-Its!
Aunt Debbie's Soap
Cathleen Riggle
Momzilla's Unique Boutique
More to come…
Culinary Corner
This years Culinary Corner at HER will feature local food vendors showing off their best work! With interactive cooking demos and Sample Sunday, this is one stop your tribe will not regret! Plus, sample the latest variety of wines from regional participating wineries.
This years Tasty Delights
Bee Kind Winery*
Tastefully Simple – Totleben
Family Measures Cooking School
Super Suppers
CUTCO
The Cocoa Exchange
A Spice Above
Tupperware
Groundhog Winery*
Black Dog Wine Company*
Jordan Essentials
do Terra Essential Oils
Buckeye Chocolates
Vinewood Acres Sugar Shack
Panera Bread
Italian American Women's Association
More to come…
*Wine tasting is not contingent on admission fee. If you are ONLY interested in sampling wines from the participating wineries, please see an Erie Promotions staff member located at the exhibitor's service table. Any persons attending the event to participate in the tasting of wines ONLY will be escorted with no admission fee to the participating wineries for sampling. This complimentary admission does not include any other activities or access to the entire HER event.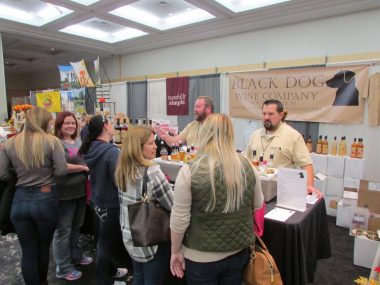 She Tribe Weekend Begins In…
GET YOUR HER PASS NOW!