Empower
Grab the ladies and let's get empowered! Learn how to take charge and become the fiercest woman you were meant to be!
Internationally known…
Master Make-Up Artist
DIY CLINICS
Bring your go-to beauty products & join Amy as she simplifies your beauty routine. The schedule includes 4 DIY Clinics that will break it down for the everyday woman, leaving her feeling empowered & ready to take on the day!
Amy Suchma Koske @askamymua, started her career as a licensed esthetician and professional makeup artist in 1995. 
Since then, she had worked with and represented most of the major prestige cosmetic companies sold in retail, today. 
She actively works backstage during Fashion Week in New York, Paris and London as well as worked with some of the most prestigious photographers in the world. 
Her true passion is teaching cosmetic application by sharing the techniques she had learned from the most sought after professional makeup artists in the industry. Her way of demystifying the world of beauty for all ages and skin tones is refreshing as well as her ability to simplify what you see on social media. 
She currently is an international artist and artistry trainer for a major cosmetic and beauty retailer. 
"What is really needed in the world of beauty is truth. There's so much misinformation out there to sell a product or brand. My mission is to empower women by giving them the information and techniques that really work." 
~ Amy S. Koske 
Clinical Nutritionist
Amie Hornaman
INFORMATIVE TALKS
Amie Hornaman, clinical nutritionist, functional medicine practitioner, University instructor and author, brings a high level of experience in the areas of weight loss, hormone balance, thyroid disorders and oncology nutrition making her a leader in the community.
Amie is Erie's only Functional Medicine Practitioner, getting to the root cause of her client's health concerns. Because every client is unique, so is Amie's approach to their health.  Amie is honest and passionate about helping people reach their goals. She will tell you what you NEED to hear, NOT what you WANT to hear.  When asked what she does Amie gives a simple answer of "I fix people". 
 She holds a B.A. in Psychology from Pennsylvania State University and a M.S. in Clinical Nutrition from Westbrook University.  Amie also is a certified Functional Medicine Practitioner through Functional Medicine University and is in the process of obtaining her doctorate degree from Maryland University.
Suzanna is a well-known radio and television personality who is able to utilize her psychic abilities to help people around the country take a glimpse in to their future!. Suzanna is able to pick up an individual's energy from all forms of correspondence in order to successfully project what the future holds. She is an intensely spiritual woman who believes her strong faith in God is the basis of her psychic powers. Suzanna believes that the ability to change the future come only with fore-knowledge! Check out the 2018 schedule of events to see when Psychic Suzanna will be on the main stage, and come sit in for a chance for Suzanna to predict your future! Plus, tune in to Star 104 Monday mornings to hear Psychic Suzanna live on-air with Jessica & Murphy.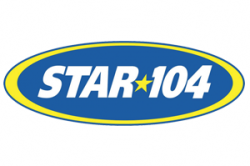 Star 104 Presents…
She Tribe Weekend Begins In…
GET YOUR HER PASS NOW!