100's of units on display at special show prices!

BOYER RV CENTER
Making Memories Since 1982
Boyer RV Center is an RV dealership serving the Erie, Pennsylvania area. We know the kind of freedom and adventure you are looking for, so we are proud to carry a large selection of new and pre-owned park models, motorhomes and trailers. Our friendly and experienced sales, financing, service and parts departments are ready to offer outstanding service at every point, from assisting while you're making your choice to ongoing maintenance and customization. At Boyer RV Center, we value the opportunity to create a long-term relationship with our customers, and we do that by making sure to exceed your expectations.
Ray Wakley's RV Center
Celebrating 41 Years!
Since 1978 we have been serving Northwestern PA, Western NY and Northeastern OH including Buffalo New York and Cleveland Ohio, with the finest products and services in the industry. Family owned and operated, we pride ourselves on our commitment to exceeding customer expectations. Our vision is to supply our customers with the best valued products in the industry and to smother them with unbeatable service after the sale. The day you take delivery of your New RV or Used RV it's not the end of our relationship, it is the beginning.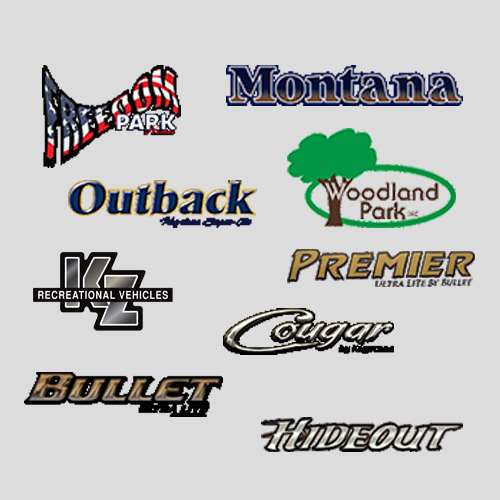 Fame RV Center
Our Customers come first.
"Building lasting relationships with our partners and employees while serving the recreational and travel community. Our core values shall be based on Honesty and Integrity and Service to the Community."In February 1968, George and Jean Bidwell, along with their kids, rented a truck camper to co camping. George said to Jean, "I could build one of those". He proceeded to take all the measurements, and 3 to 4 days they had a brand new truck camper. So George met with some of his buddies and decided to start a business. They decided to combine their middle initials to spell F.A.M.E. Manufacturing. They started making truck campers but soon expanded to travel trailers, truck caps, and 5th wheels. In 1993 Bob and George retired. At that time Dan Bidwell, George's son, and Mark Simcheck, George's son-in-law, bought into the business. As the years passed big corporate manufacturers were starting to sell trailers faster and cheaper than FAME. Today FAME sells high quality units while continuing to keep their customers FIRST.