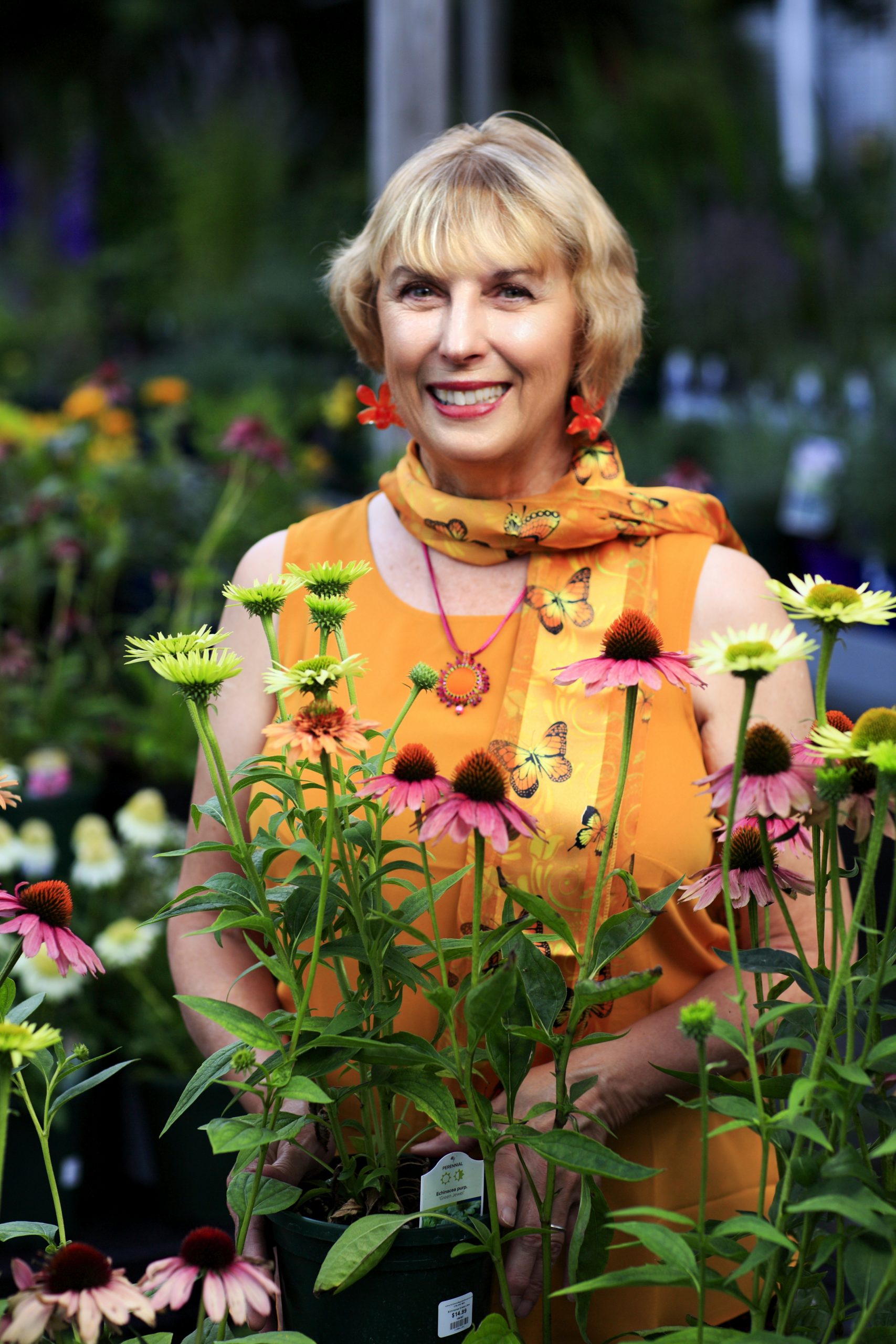 SPECIAL GUEST
Sally Cunningham
Friday at 2:00 p.m.
Learn from Buffalo's Best Gardens!
with Sally Cunningham
Garden tourism is hot, nowhere more than in Buffalo New York, which now has the largest garden tour in the U.S.! With inspiration from the private gardens of Western New York, Sally will show how everyday gardens can be transformed into unforgettable, one-of-a-kind gardens like these now-famous destination gardens. Buffalo style—a term coined by garden bloggers and writers discovering Garden Walk Buffalo—has come to mean quirky, free-spirited, innovative, artistic, and surprising. Sally's talk shows how all gardeners can build upon established garden design principles and use fresh ideas to make the most of your space and actual conditions. (The book Buffalo-Style Gardens, by Sally Cunningham and Jim Charlier, St. Lynn's Press 2019, will be available for signing.)
Saturday at Noon
Sally's Top Twenty Tips for a better yard and garden—even if you are not a gardener
(Includes recovering from winter damage)

Sally Cunningham is the region's "Garden Lady" on TV and in print for decades, and she wants everyone to know how to take care of the trees, shrubs, flowers, veggies, and soil in your yard. Learn what the best gardeners know (and some don't) about having a healthier, prettier, and more productive front and back yard. This Spring has every homeowner asking questions about repairing what winter did to our landscape plants. All questions are welcome! (Book signing available.)
Saturday at 3:00 p.m.
Benefit the Bees, Butterflies, and Birds

Sally Cunningham will show homeowners and gardeners how easily we can all do a better job of attracting, protecting, and enjoying Mother Nature's gifts. It's all about tweaking the way things used to be done. Topics include choosing pollinator plants, attracting and enjoying protecting birds and butterflies,  improving soil, water-wise gardening, and the benefits of  biodiversity and layering in garden islands and borders. We can all have beauty and productive gardens while doing no harm. (Book signing available)
Sunday at 2:00 p.m.
Learn from Buffalo's Best Gardens!
with Sally Cunningham

Garden tourism is hot, nowhere more than in Buffalo New York, which now has the largest garden tour in the U.S.! With inspiration from the private gardens of Western New York, Sally will show how everyday gardens can be transformed into unforgettable, one-of-a-kind gardens like these now-famous destination gardens. Buffalo style—a term coined by garden bloggers and writers discovering Garden Walk Buffalo—has come to mean quirky, free-spirited, innovative, artistic, and surprising. Sally's talk shows how all gardeners can build upon established garden design principles and use fresh ideas to make the most of your space and actual conditions. (The book Buffalo-Style Gardens, by Sally Cunningham and Jim Charlier, St. Lynn's Press 2019, will be available for signing.)