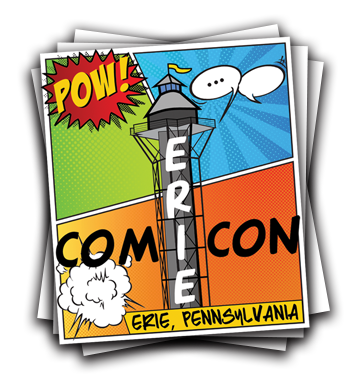 Volunteer at the 2018 ComiCon Erie!
Whether you are new to ComiCon, or an avid sci-fi, anime, or cosplay fan, ComiCon Erie wants your help!
Do you want to join forces with ComiCon Erie? ComiCon Erie is looking for volunteers to help with this year's convention! Please review the information below if you are considering becoming a volunteer. 
Requirements
Volunteers must:
– be at least 18 years of age or older
– be legally eligible to work in the US
– fill out the volunteer application and sign the required waiver
– be available and reliable to work your designated shift if selected
As part of the ComiCon Erie Team, you are expected to:
– Act appropriately and respectfully as you will be representatives of ComiCon Erie
– Maintain confidentiality with any information relayed to you during ComiCon Erie
– Not make any statements or actions that would hinder or affect ComiCon Erie or its reputation, including speaking to the public and/or media
– Perform your volunteer duties to the best of your ability. If you are unable to perform your designated duties, please inform the Erie Promotions staff so we can make the appropriate arrangements
How Much Time is Required of Volunteers?
Volunteer shifts are divided in to 4-hour increments.  You are welcome to sign up for multiple or consecutive shifts, but a minimum of 4 hours are required to be a volunteer. Volunteers are welcome to participate in any other ComiCon Erie activities before or after your designated shift(s).
Do I Receive Anything For Being A ComiCon Erie Volunteer?
Along with a behind-the-scenes look at ComiCon Erie and all of the fun, creative characters that go along with it, volunteers will receive an official ComiCon Erie commemorative t-shirt, snacks and refreshments during your shift, and a day pass to ComiCon Erie to use on any day of your choice!
If you decide to join us, click the link below to submit your application. If our volunteer spots have not been filled, we will give you a call to join us. Please understand that filling out this form does not automatically make you a volunteer.
ComiCon Erie Rules of Attendance
September 14 – 16, 2018
FRIDAY: $15
SATURDAY: $18
SUNDAY: $15
GEEKENDER: $30
(All tickets sold at the door are $20 per day or $35 for a weekend pass)
Tickets may sell out at any time!
Don't miss out! Get your tickets today!