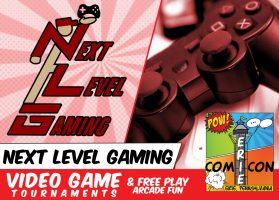 Join… Next Level Gaming at this years ComiCon Erie!
Check out the schedule of events below for your favorite events. 
Time
Mario Mania Friday
Super Tournament Saturday
Sunday Fun Day
10:00 AM
REGISTRATION BEGINS
REGISTRATION BEGINS
Arcade1up Pentathlon Challenge FREE EVENT
11:00 AM
Super Smash Bros. Ult. Squad Strike Crew Battle 3v3
Fortnite "Free-for-All"
12:00 PM
Mario Kart Double Dash
12:00 PM
Super Smash Bros.
Melee Doubles
12:30 PM
Tatsunoko vs Capcom
1:00 PM
Smash Ultimate Doubles
Madden 20
1:30 PM
Dragon Ball Fighter Z
2:00 PM
REGISTRATION ENDS
Melee Singles
2:00 PM
REGISTRATION BEGINS
PROJECT M SINGLES
2:30 PM
Mario Party Shuffle
Street Fighter V:
Arcade Edition
REGISTRATION ENDS
Arcade1up Pentathlon Challenge FREE EVENT
3:00 PM
Smash Ultimate
3:30 PM
Mario Maker Versus Challenge
Registration ends for Mario Party Shuffle
Mortal Kombat 11
5:30 PM
Mario Kart 8
General Player Rules & Guidelines
-All tournaments are $7 per player, per game to enter, unless otherwise stated. ALL ENTRY FEES ARE NON-REFUNDABLE
The first 6 players to present a Smash Ultimate set-up (functioning Switch system, dock, Smash Ultimate game w/all DLC characters, game cube adapter, HDMI & power cables) will each receive a $7 credit towards tournament entry – must register for tournament entry in person to receive credit. 
$5 of each tournament entry fee goes towards prize pool.
-Participants are strongly encouraged to pre-register for ComiCon general admission and pre-register for all tournaments that you will be participating in. Pre-registration will help to make all tournaments run as smooth as possible.
ALL ENTRY FEES WILL BE COLLECTED AT THE EVENT
There is a .25 online processing fee for all tickets and each on-line tournament registration. Purchase your event ticket first and follow the prompts for your tournament choices.
-All tournaments will be taking place in the "Next Level Gaming' " tournament play area.
-As with most videogame tournaments, please bring your own controller.
-If you do not have your own controller, there are some available to rent at the registration & scoring desk (first come, first serve).controllers rent for $3 and joysticks rent $5. Both rentals are good for the duration of the tournament day and can be exchanged for a different system controller at any point until the rental concludes and ID is returned.
-In some cases, an adapter may be required to use your  preferred controller on a game system. 
-The cost to rent a controller or adapter is $3. Please provide us with a Driver's License, State ID, Student ID or AAA card to hold onto during the course of use. Please reclaim your ID upon returning the rented equipment.
-Players participating in more than one event, please let the event runner know at the beginning of each round which events you are in, so we can run all events as smoothly as possible. For any players entering a team tournament, please approach registration with your teammates to make entry run as smoothly as possible. A roll call will be taken prior to each event to ensure correct bracket entry.
-Once the tournament begins, players are to remain in the tournament play area.
-If using a DS4 (PS4) controller, please be sure to de-sync it from the system when your match concludes.
-Winner of each match set (aka match pairing) advances.
-Single Elimination means loose once and you are eliminated.
-Double Elimination means loose twice and you are eliminated.
-When your match pairing is called, please report to your tournament station for play.
-Players have 60 seconds to perform a button check/in-game button check, then exit to character select to start the match.
-Failure to report to your tournament station when called will result in a count down and subsequent disqualification.
-In the case of accidental pause during match play, both players are given 1 DQ warning.
-Additional pausing during match play for the remainder of the tournament will result in disqualification.
-Please, no viewer interference during match play.
-Please, NO FOOD or DRINK in the Player Area.
-Players are encouraged to wash and/or sanitize their hands before playing.
-Please, No Foul Language.
-NO BULLYING will be tolerated.
-Per Convention Center and ComiCon Staff, no betting will be tolerated
Countdown to get your CON ON!
FRIDAY: $15
SATURDAY: $18
SUNDAY: $15
GEEKENDER: $30
ALL TICKETS SOLD AT THE DOOR ARE $20 PER DAY OR $35 FOR A GEEKENDER.
CHILDREN 10 and UNDER ARE FREE!